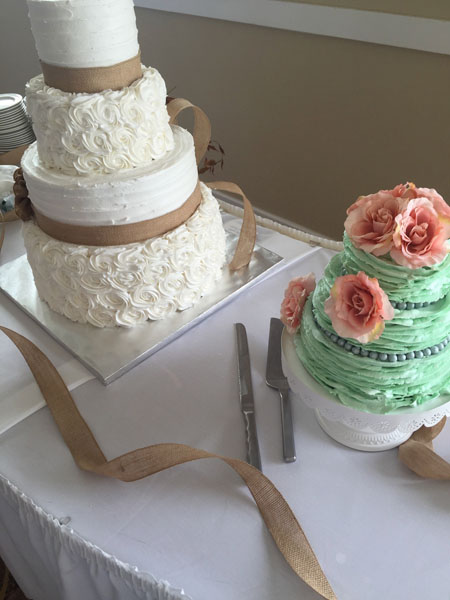 Creating a wedding cake is hard but rewarding work. Getting the consistency just right (not too dense, but able to hold up under pressure), pairing the flavors (complementary, but not overwhelming), and adding all the finishing touches (memorable, but not garish). Not to mention the literal balancing act of tier upon tier of frosting, flowers, and trinkets. It is a labor of love. And the end result is oh so delicious!
We think a wedding cake is a pretty good analogy for a marriage.
P.S. We believe that Love is Love, and if you are marrying the person you love, we would love to make your cake.
At My Petite Sweet, we take sugar and weddings seriously. From tasting and design, to delivery and presentation, we know it's the details that matter most. That's why we start with a heart-to-heart conversation to make sure we understand your tastes and desires. We'll talk about logistics and design and get a tasting scheduled. Learn more about tastings here »
We offer 30 cake flavors, more than 20 different fillings, and nearly a dozen frosting options. Not to mention a wide variety of both traditional and unconventional garnishes. You can choose an existing design, design your own, or we can work together to create a truly unique cake just for you.
Cake Flavors
Almond Poppyseed
Apple
Banana
Caramel Apple
Carrot (with or without nuts)
Chai Spice
Champagne
Chocolate
Chocolate Chip
Chocolate Nut
Chocolate Raspberry
Chocolate Toffee
Coconut
Dense and Deep Chocolate
French Vanilla
Irish Cream
Java Chip
Maple Nut
Mocha Hazelnut
Oreo
Peanut Butter Chocolate Swirl
Peanut Butter Vanilla Swirl
Pineapple Coconut
Red Velvet
Vanilla w/ Cookie Dough
Vanilla Nut
White Cake
White Chocolate Macadamia
Yellow Cake
Fillings
Almond Cream
Almond Toffee
Bavarian Cream
Butterfinger Cream
Cherry
Chocolate Ganache
Chocolate Mousse
Coconut Cream
Cream Cheese
Lemon
Lemon Curd
Marionberry
Mint Chip
Orange Cream
Oreo Mousse
Pineapple Cream
Raspberry
Raspberry Mousse
Strawberry
Strawberry Mousse
White Chocolate Macadamia
Frosting
Buttercream
Chocolate Ganache
Flavored Buttercream
Caramel
Champagne
Irish Cream
Lemon
Mocha
Peanut Butter
Raspberry
Root Beer
Strawberry
Garnishes
Chocolate Fondant
Edible Luster Dusts
Edible Pearls
Edible Shapes / Forms / Shells
Flavored Fondant
Fondant Flowers
Gumpaste Flowers
Real Flowers
White Fondant
In addition to full wedding cakes, we also craft display cakes and can supplement any of our cake options with sheet cakes or cupcakes* to make sure your guests are adequately sugared. Learn more about our options and base pricing here »
We offer $25 local delivery for up to 100 miles from our Lincoln City shop, so go find the perfect beach for your day and leave the rest of the cake logistics to us.
And at My Petite Sweet, there's no need to save your cake topper. We'll make you a complimentary anniversary cake on or as close to your anniversary that you're back in Lincoln City. Because really, who wants to eat stale cake for their anniversary!
Please note: We are only able to service a limited number of weddings each week. We suggest contacting us at least 3 months in advance (especially for summer weddings).
* Please note that bulk cupcake orders must contain a minimum of 4 full size cupcakes (or 1 dozen mini cupcakes) per desired flavor.
Michelle was very helpful and made ordering a cake (from another state!) really easy! Our wedding cake was beautiful and tasted amazing! It was exactly what we wanted. I'd highly recommend My Petite Sweet! Excellent service and excellent cake!