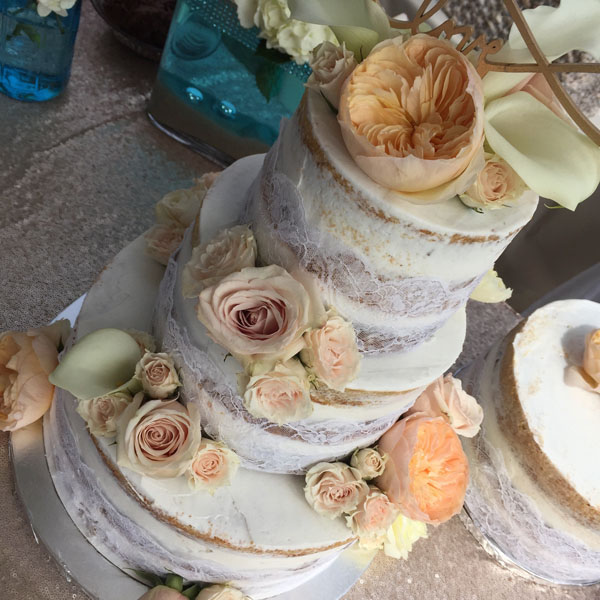 As beautiful as our wedding cakes are, we know it's not all about looks. What's under (and in) all that frosting matters too! That's why we offer 30 cake flavors, more than 20 different fillings, and nearly a dozen frosting options.
So pick your favorites and schedule a tasting. Tastings include your choice of 3 flavors, fillings, and frostings, and start at just $35 for the bride and groom to be (additional guests are $10/each).
We'll even provide the refreshments!
Cake Flavors
Almond Poppyseed
Apple
Banana
Caramel Apple
Carrot (with or without nuts)
Chai Spice
Champagne
Chocolate
Chocolate Chip
Chocolate Nut
Chocolate Raspberry
Chocolate Toffee
Coconut
Dense and Deep Chocolate
French Vanilla
Irish Cream
Java Chip
Maple Nut
Mocha Hazelnut
Oreo
Peanut Butter Chocolate Swirl
Peanut Butter Vanilla Swirl
Pineapple Coconut
Red Velvet
Vanilla w/ Cookie Dough
Vanilla Nut
White Cake
White Chocolate Macadamia
Yellow Cake
Fillings
Almond Cream
Almond Toffee
Bavarian Cream
Butterfinger Cream
Cherry
Chocolate Ganache
Chocolate Mousse
Coconut Cream
Cream Cheese
Lemon
Lemon Curd
Marionberry
Mint Chip
Orange Cream
Oreo Mousse
Pineapple Cream
Raspberry
Raspberry Mousse
Strawberry
Strawberry Mousse
White Chocolate Macadamia
Frosting
Buttercream
Chocolate Ganache
Flavored Buttercream
Caramel
Champagne
Irish Cream
Lemon
Mocha
Peanut Butter
Raspberry
Root Beer
Strawberry
Garnishes
Chocolate Fondant
Edible Luster Dusts
Edible Pearls
Edible Shapes / Forms / Shells
Flavored Fondant
Fondant Flowers
Gumpaste Flowers
Real Flowers
White Fondant
Please note: We suggest you book your tasting at least one week in advance. Unfortunately, due to scheduled wedding cakes and deliveries, we cannot accommodate tastings on Saturdays in June, July, or August.
Just had our cake tasting today and hands down I can say that we made 100% the right choice! Excellent cakes and flavors and absolutely amazing customer service!