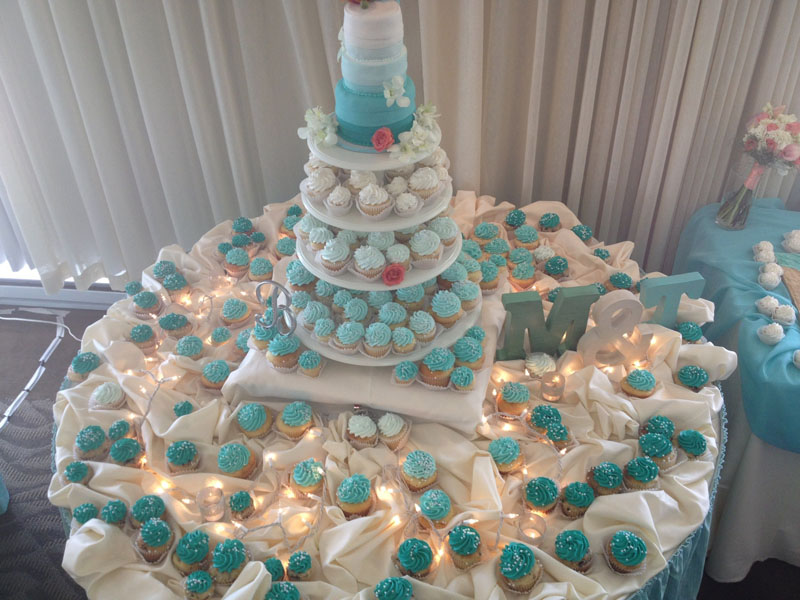 At My Petite Sweet, we think that cake is the best way to celebrate! We specialize in unique and decadent cakes for any and all events. Whether you're celebrating a graduation, retirement, birthday, milestone, anniversary, or just a Wednesday, we've got you covered.
We offer 30 cake flavors,
more than 20 different fillings, and nearly a dozen frosting options. Not to mention a wide variety of both traditional and unconventional garnishes. You can choose an existing design, design your own, or we can work together to create a truly unique cake just for you. If cupcakes are more your thing, we will gladly make them in all the same flavor possibilities.*
Sweet Notes
Minimum 48 hour notice required for all custom cake orders. Excludes wedding cakes. For wedding cake inquiries, please click here »
Sometimes we get so busy, we can't accept new orders. To ensure that we have the capacity to make your custom cake, please contact us as early as possible. 
Bulk cupcake orders must contain a minimum of 4 full size cupcakes (or 1 dozen mini cupcakes) per desired flavor.
Cake Flavors
Almond Poppyseed
Apple
Banana
Caramel Apple
Carrot (with or without nuts)
Chai Spice
Champagne
Chocolate
Chocolate Chip
Chocolate Nut
Chocolate Raspberry
Chocolate Toffee
Coconut
Dense and Deep Chocolate
French Vanilla
Irish Cream
Java Chip
Maple Nut
Mocha Hazelnut
Oreo
Peanut Butter Chocolate Swirl
Peanut Butter Vanilla Swirl
Pineapple Coconut
Red Velvet
Vanilla w/ Cookie Dough
Vanilla Nut
White Cake
White Chocolate Macadamia
Yellow Cake
Fillings
Almond Cream
Almond Toffee
Bavarian Cream
Butterfinger Cream
Cherry
Chocolate Ganache
Chocolate Mousse
Coconut Cream
Cream Cheese
Lemon
Lemon Curd
Marionberry
Mint Chip
Orange Cream
Oreo Mousse
Pineapple Cream
Raspberry
Raspberry Mousse
Strawberry
Strawberry Mousse
White Chocolate Macadamia
Frosting
Buttercream
Chocolate Ganache
Flavored Buttercream
Caramel
Champagne
Irish Cream
Lemon
Mocha
Peanut Butter
Raspberry
Root Beer
Strawberry
Garnishes
Chocolate Fondant
Edible Luster Dusts
Edible Pearls
Edible Shapes / Forms / Shells
Flavored Fondant
Fondant Flowers
Gumpaste Flowers
Real Flowers
White Fondant
Once you have Michelle make a special occasion even more fantastic you will want her at all your events. Her creativity, love and dedication shows with every cake, cupcake and fine dish she prepares.